In our previous article, 'An entrepreneur and his company that challenges QA & compliance norms for the education sector', we shared about how EduValue Singapore (EV) was founded, its growth thus far and where we are striving towards. We also mentioned how we started different brands in our second and third year of EV's operations. These brands, iCosys, Bay Alliance, The EV Network and EV Academy, were to establish a foothold as well as support the growth and development of the education industry in Singapore and beyond.
From the initial conceptualisation of Bay Alliance as our Group holding company, we have over the years re-structured our brands as the EV brand was growing in traction and recognised by more than half the industry in Singapore. EV had also begun to establish our brand name in the education sector. In 2020, under the direction of our founder, Barry Awyong, the Group and brands underwent major restructuring to focus on what we do best and tap on the branding of EV. These companies were re-established under EV Education Group to collectively work towards a common vision of transforming schools into world-class establishments. Now, we would like to present to you the EV Education Group, our key products and brands as well as our 6 key strategies that drive our philosophy of The EV Blue Ocean Series.
The EV Education Group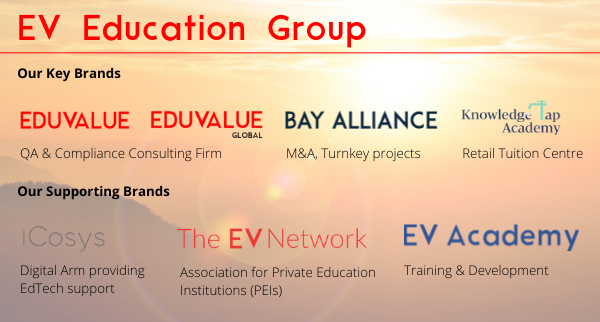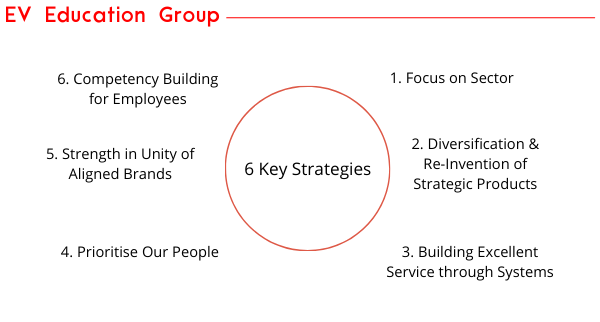 During our restructuring in 2020, we established 6 key broad strategies that would form the backbone of EV Education Group. These strategies carry out and drive the EV Blue Ocean Series philosophy.
1. Focus on Sector This is our core strategy, without which we would not have the EV Education Group. We ensure that whatever products and services we innovate and provide are for the benefit and growth of the education sector. For example, Bay Alliance looks at investment opportunities that challenge norms and innovate within the educational sector.
2. Diversification and Reinvention of Strategic Products We strive to research, develop, innovate and diversify products in the education sector. We also seek to reinvent existing strategic products on how it can evolve with the needs of the education sector. Additionally, our research team persistently conducts a comprehensive review of our systems and infrastructure from our products to our company structure and functions. Currently within the Group, EV has in the pipeline creating new products and initiatives that would change and enhance the education market and its landscape.
3. Building Excellent Service through Systems We pour investments into ensuring that our supporting brands builds reliable and efficient systems that support the education sector. For example, iCosys builds SMS and Workspace systems that enables school employees to constantly be engaged, increase efficiencies and build employees competencies. iCosys supports EV who manages over 40 schools QA departments. iCosys seeks to understand individual schools' needs in terms of daily operations, QA and regulatory compliance requirements and all other specifications and needs before building workflow systems that enhance the school's management. Similarly, all supporting brands of the EV Education Group strive to build correct, efficient and useful systems before releasing it to our clients, non-clients and public for the betterment of the education sector.
4. Prioritise Our People The Group identifies that we are made of two things – systems and people. People are important as they engage our clients and help to drive the education sector forward. In prioritising our people, we listen to their feedback and find a balance to ensure that our employees, management, brands, and the Group can prosper.
5. Strength in Unity of Aligned Brands When any of our brands receive a client with multiple needs across different functions, the Group's brands are able to work cohesively to bring out and leverage on the strengths and expertise of each of the brands to support our clients. For instance, when Bay Alliance invested in KTA to create a new capability of tuition centres, we also brought EV and iCosys on board to assist KTA in navigating through regulatory requirements and technological needs. The Group is currently in the works with new products in our pipeline that taps on all the strengths of our brands and initiatives.
6. Competency Building for Employees This key strategy works together with our 4th strategy on Prioritising Our People. With this strategy, our Group looks at holistic development of competencies needed for our employees like soft skills. Currently, we are working on our Group level to develop a recognised certificate that will bring our employees above and beyond what other organisations have.
The Future of the Group
Looking forward, the EV Education Group aims to have a brand for each type of function. Currently, we have brands for QA and compliance, school management and operations (student services, HR, consulting), and training. We strive to develop other brands that can empower our clients and by extension, the education sector to become world-class institutions.
Written and graphic design by Gillian Koh, Industry Research Team at EduValue