It is time to overhaul school models
Education systems have become increasingly disconnected from the realities and needs of global economies and societies as globalization and rapid technological advancements continue to transform civic space and the world of work. Education models must change in order to provide children with the skills they need to make the world a more inclusive, cohesive, and productive place.
This overhaul of teaching and education methods is desperately needed – and not just because of the breakneck speed with which digital technologies, AI, and data are ushering in change. It's also necessary because current teaching and educational models are still firmly rooted in practices that have existed for at least 200 years.
The need of changes in curriculum, teaching pedagogy and business models
New schools and teaching methods are sprouting up throughout the world to help prepare the next generation for a rapidly changing labor market. According to a World Economic Forum article, innovative institutions at all levels are upending the traditional classroom approach, as demonstrated by Anji Play a pre-school in Zhejiang, China uses low- to no-cost items to teach entirely through child-led play; South Tapiola High School in Finland places a special emphasis on teaching collaboration through entrepreneurship, active citizenship, and social awareness with real-world applications; and Green School, Bali, Indonesia's curriculum is centered on developing the next generation of green leaders (Fleming, 2020).
Several global studies have identified several changes that future schools must implement. Schools should include content that emphasizes global awareness, sustainability, and taking an active role in the global community. Schools also cannot avoid the need to think about the innovation and creativity skills such as complex problem-solving, analytical thinking, creativity, and systems analysis (Vander, et al., 2020). Many studies have advocated for developing digital skills such as programming, digital responsibility, and technology use (Visvizi, et al., 2019). Soft skills, such as interpersonal emotional intelligence, cooperation, negotiation, leadership, and social awareness, are critical for the future of work. We are increasingly in need of a personalized learning system that is based on each learner's diverse individual needs and is flexible enough to allow each learner to progress at their own pace. Learning should be both accessible and inclusive which everyone has access to learning anytime. Online education models have unrivaled potential to improve the efficiency and quality of teaching, as well as contribute to lower tuition costs and more time for faculty to conduct research (Peters, et al., 2018). There should be more problem-based and collaborative learning, as teaching need to shift from process-based to project- and problem-based learning, requiring peer collaboration and more closely mirroring the future of work (King,2018; Noddings, 2018). Finally, lifelong and student-driven learning in which everyone continuously improves existing skills and acquires new ones based on their unique needs (Higgs, et al., 2019).
The above could be represented by The World Economic Forum Education 4.0 Framework shown in Fig.1.  According to the framework, there are eight critical characteristics in learning content and experiences (World Economic Forum, 2020):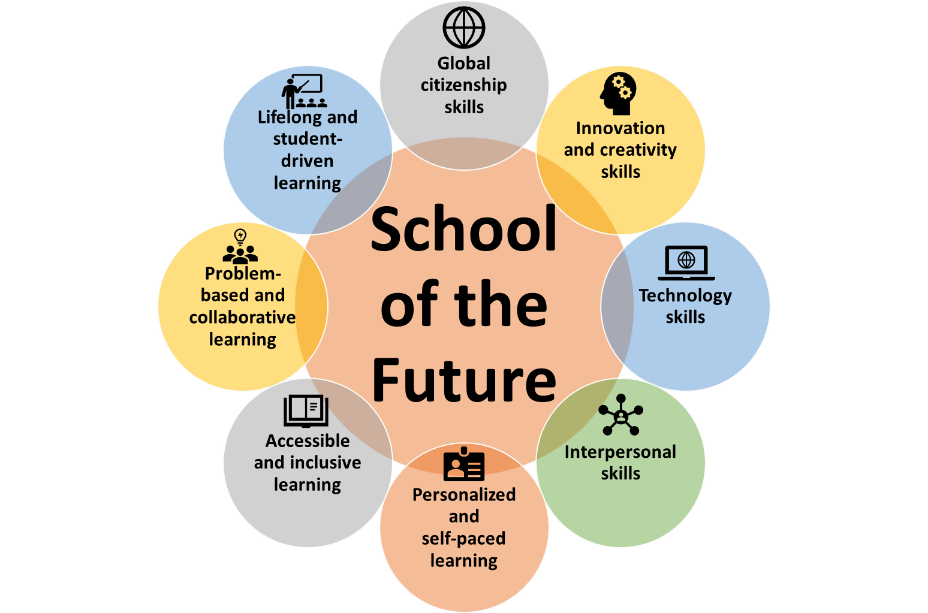 Global citizenship skills: Include content that focuses on building awareness about the wider world, sustainability and playing an active role in the global community.
Innovation and creativity skills: Include content that fosters skills required for innovation, including complex problem-solving, analytical thinking, creativity and systems analysis.
Technology skills: Include content that is based on developing digital skills, including programming, digital responsibility and the use of technology.
Interpersonal skills: Include content that focuses on interpersonal emotional intelligence, including empathy, cooperation, negotiation, leadership and social awareness.
Personalized and self-paced learning: Move from a system where learning is standardized, to one based on the diverse individual needs of each learner, and flexible enough to enable each learner to progress at their own pace.
Accessible and inclusive learning: Move from a system where learning is confined to those with access to school buildings to one in which everyone has access to learning and is therefore inclusive.
Problem-based and collaborative learning: Move from process-based to project- and problem-based content delivery, requiring peer collaboration and more closely mirroring the future of work.
Lifelong and student-driven learning: Move from a system where learning and skilling decrease over one's lifespan to one where everyone continuously improves on existing skills and acquires new ones based on their individual needs.
PEIs must push themselves to occupy a high-quality market niche
Private Education Institutions (PEIs) in Singapore should move towards supporting Singapore's Skillsfuture.SG mission to "Enable individuals to learn for life, pursue skills mastery and develop fulfilling careers, for a future-ready Singapore" with a vision of creating "A nation of lifelong learners; a society that values skills mastery" (Skillsfuture.SG, 2020).
If the private education sector is willing to commit and hold themselves more accountable for their service outcomes, it could be a valuable supplement to government efforts to meet the ever-increasing need and demand for future-of-work skills.
PEI students are frequently "branded" as less talented than those who attend demanding Singapore government schools; however, by self-regulating and cooperating within a strong ecosystem to support one another for sectoral improvement and contributions to Singapore's learning economy, while maintaining quality assurance and regulatory standards set by the Committee of Private Education (CPE), PEIs can drastically change this mindset. With extremely good government-provided education in Singapore, PEIs must push themselves to occupy a high-quality market niche.
Suggested framework for future of Private education institution models
The World Bank Group Initiative Systems Approach for Better Education Results (SABER) outlines an analytical framework that explains the components required to effectively deliver private education, covering three groups of actors and the relationships and interactions that should exist between them to create effective service delivery systems (Baum, et al., 2014). This framework proposes (Fig. 2) that in order for services to work, effective channels of accountability must exist between learners and providers, between learners and policymakers, and between policymakers and providers, and that different types of providers innovate to ensure that those services meet the needs of all students in the education system.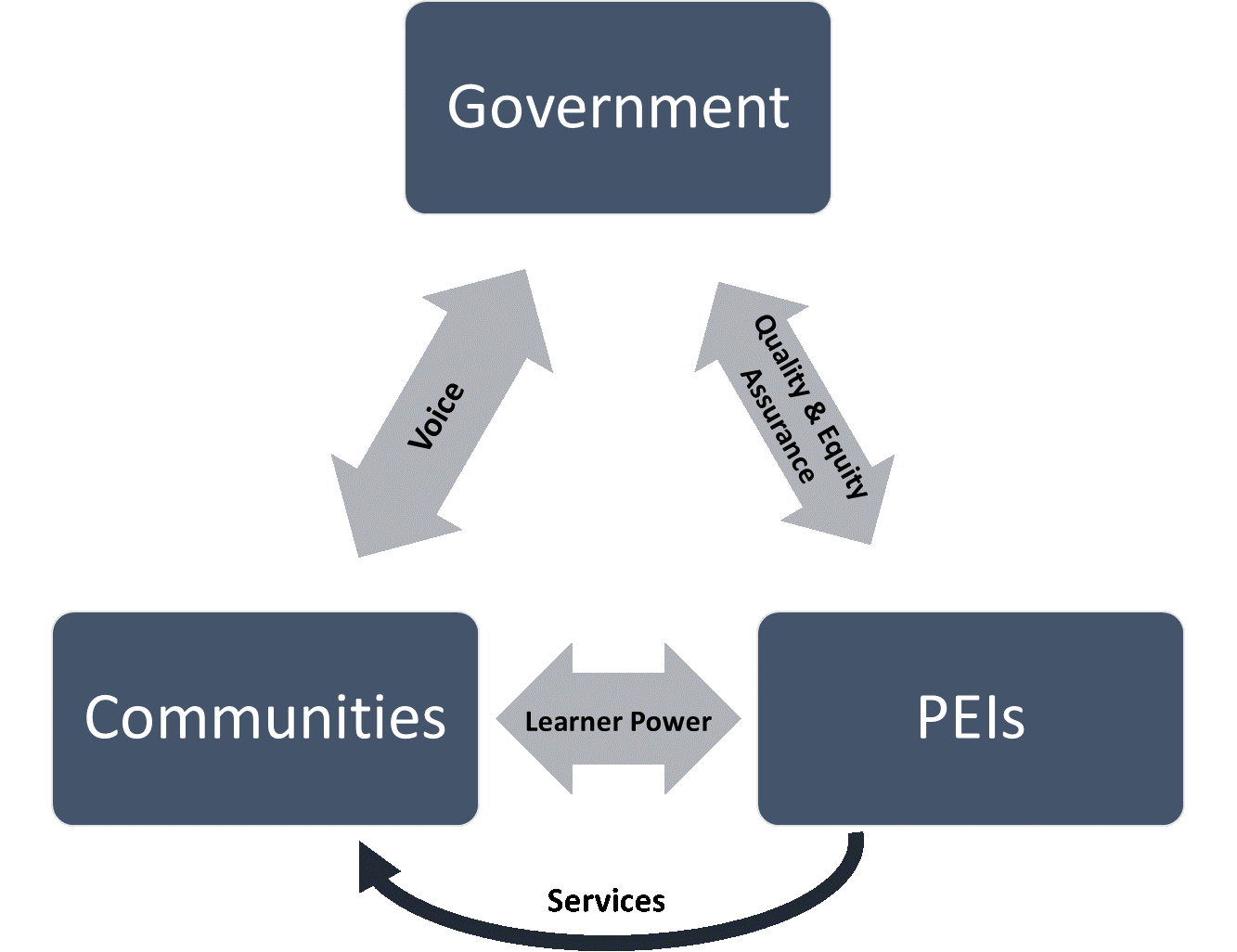 According to Baum, et al., (2014), "the long route of accountability" in PEIs allows students to hold the government accountable by using their voice through the established political process. In turn, the government holds school providers accountable for their outputs/outcomes. This long road to accountability, as depicted in Fig. 2, is a two-step process that requires the state to demand high-quality services on behalf of its students (through channels of voice and quality assurance). The short route of accountability, on the other hand, requires providers to answer directly to their learners, increasing the power of learners. Learner power is strong when a service is competitively provided and information on its quality is freely available to the communities (parents, companies, households), and this short route is sufficient to ensure satisfactory service delivery.
An EduValue Global Concept to Build PEIs of the Future
EV Academy – An EduValue Global Private Education Institution Concept
Using the World Bank framework (shown in Fig. 2) as a model. EV Academy, part of EduValue Global, has gone a step further by incorporating additional factors that will solidify and improve the framework to include specific factors to train PEIs in order to help build the Private Schools of the Future. Fig. 3 depicts these elements.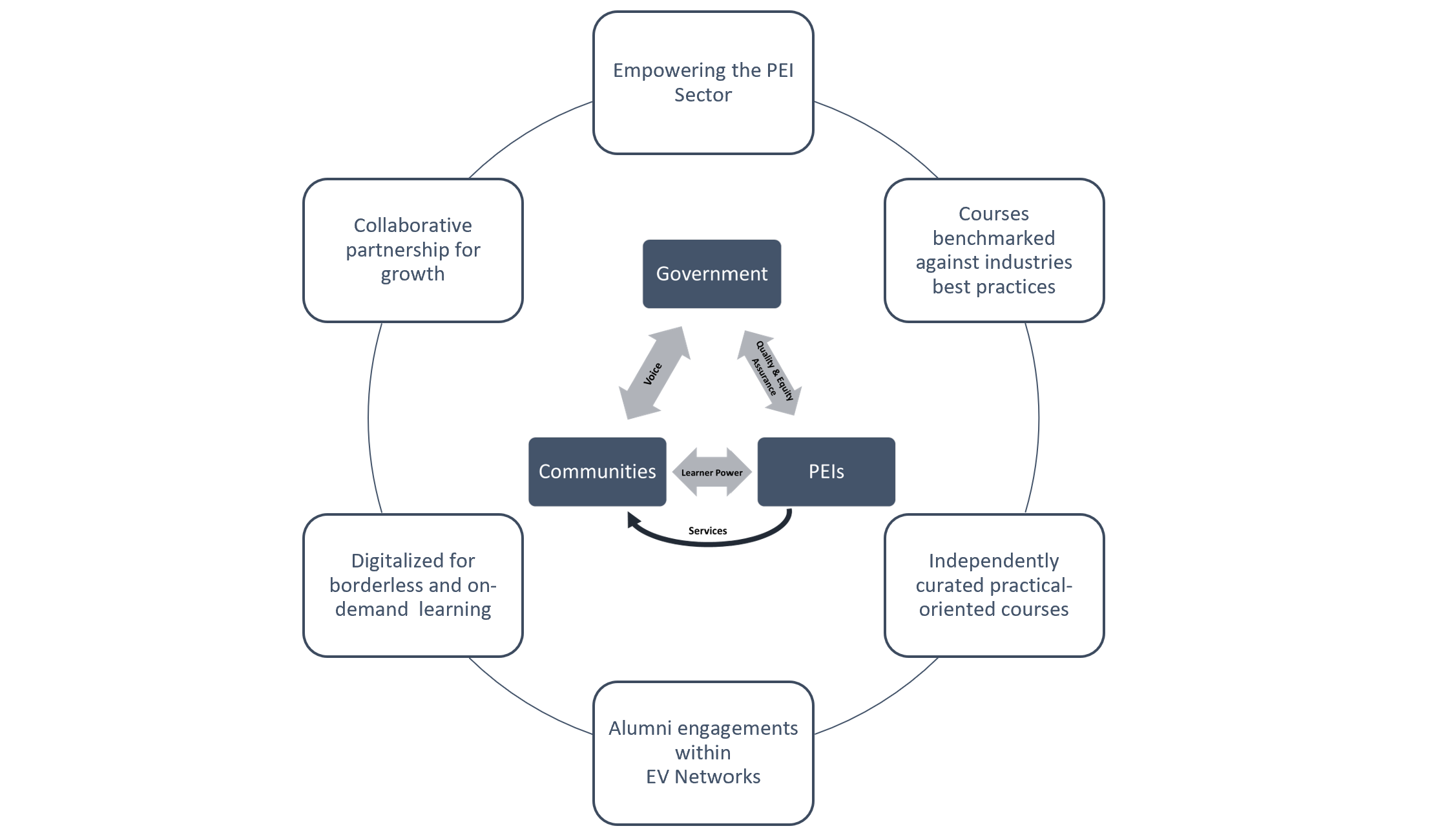 Empowering the PEI Sector – Build Private Schools of the Future
The programs of EV Academy aim to transform the private education sector by providing a forward-thinking learning environment that engages and inspires education professionals in all aspects of running a successful educational institution. Building successful private schools necessitates the development of strategic and operational skills, as well as knowledge from best practices, in order to capture opportunities and establish workable solutions.
Courses benchmarked against industry best practices
Benchmarking is EV Academy's ongoing process of comparing business processes and performance metrics to industry best practices and/or best practices from other industries. Learning modules are created with three dimensions in mind: quality, time, and cost. The learning outcomes at EV Academy focused on doing things better, faster, and cheaper.
Independently curated practical-oriented courses
EV Academy courses will provide learners with essential tool kits presented in a novel way to help you think critically about the job function's roles and responsibilities. Learners will be able to confidently identify, apply, and establish their competency within their current workspaces, directly contributing to EV Global's mission of strengthening the industry.
Alumni engagements within EV Networks
Alumni are automatically members of EV Networks, a non-profit network that aim to play a larger role by empowering schools, and make them better as a collective whole. All our learners will be sent relevant community updates about the latest opportunities, news, research and events at no cost.
Digitalized for borderless and on-demand learning
Because digital transformation is absolutely necessary, our training programs at EV Academy is developed to include components that assist private schools in cultivating a digitally ready mindset and meeting the requirements of school business. As part of the process of navigating digital disruption, students will be able to comprehend and capitalize on the learning transformational drivers that enable on-demand access to our courses in addition to traditional classroom settings.
Collaborative partnership for growth
EV Academy will also actively participate in the collaborative growth of private education intuition. As a niche independent and non-competing party, the academy strives to go beyond the existing ecosystem by developing, connecting, and expanding networks that learners can tap into to scale business revenue growth.
EV Academy 3Cs Learning Framework
EV Academy's programs focused on three areas: empowering, enabling, and envisioning educators as change agents to promote dominant learning and school management ideologies that encourage learners to become active participants in the larger social and economic world.
EV Academy achieved this by the following the 3Cs approaches in our learning framework comprising of developing Competent, Conversant and Capable, as shown in Fig. 4 is a platform that drives proficiency, knowledge and abilities of education practitioners of all levels.
The 3Cs Learning Framework addresses several compelling issues which formed the development of relevant programs for education practitioners. This includes:
Proficiency parameters which relate to the facilitation of access, transfer and progression of learners
Core knowledge and skills for each level of learner's professional development
Occupational profiles for each level of learner's professional development
Quality assurance and regulatory requirements governing the sector
Conclusion
Learning and development have been identified as critical components in the growth of any profession. All levels of training programs must be developed in a way that recognizes the diverse needs of today's Private Education and Training Sector in order to establish a precise and holistic framework.
With budgetary constraints, public opinion, and the aftermath of the coronavirus pandemic, times are tough for those in private education. It's difficult to fully comprehend what life might be like for educators, students, and parents. However, we can be proactive and stay current with current trends and information by ensuring educators are well-trained to meet the future growth needs of private education providers.
References
Baum, D., Lewis, L., Lusk-Stover, O. & Patrinos, H., 2014. SABER Worklng Paper Series: What Matters Most for Engaging the Private Sector in Education: A Framework Paper, Washington: World Bank Group.
Fleming, S., 2020. How can we prepare students for the Fourth Industrial Revolution? 5 lessons from innovative schools around the world. [Online] Available at: https://www.weforum.org/agenda/2020/02/schools-of-the-future-report-2020-education-changing-world/. [Accessed 22 Apr 2022].
Greenstein, D. I. (2019) "The Future of Undergraduate Education Will Differences Across Sectors Exacerbate Inequality?," Daedalus, 148(4), pp. 108–137.
Higgs, J., Letts, W. J. and Crisp, G. (eds) (2019) Education for employability. Leiden: Brill Sense (Practice futures, volume 4). Available at: INSERT-MISSING-URL (Accessed: April 27, 2022).
King, E. (2018) The future of post-secondary education in an information rich world. Bradford, West Yorkshire: Emerald Publishing Limited (On the Horizon Ser, v. 1). Available at: https://public.ebookcentral.proquest.com/choice/publicfullrecord.aspx?p=5430366 (Accessed: April 27, 2022).
Noddings, N. (2018) Philosophy of education. 4th edn. Boulder: Routledge.
Peters, K., Smith, R. R. and Thomas, H. (2018) Rethinking the business models of business schools: a critical review and change agenda for the future. Bingley, UK: Emerald Publishing.
Steenkamp J.-B.E.M (2018) "The Future of the Marketing Department at Business Schools," Journal of the Academy of Marketing Science, 46(2), pp. 169–172. doi: 10.1007/s11747-017-0562-5.
Skillsfuture.SG, 2020. ABOUT SKILLSFUTURE SINGAPORE. [Online].
Available at: https://www.ssg-wsg.gov.sg/about.html. [Accessed 28 Apr 2022].
Visvizi, A., Lytras, M. D. and Daniela, L. (eds) (2019) The future of innovation and technology in education: policies and practices for teaching and learning excellence. Bingley, U.K.: Emerald Publishing Limited (Emerald studies in higher education innovation and technology).
Vander Ark, T., Liebtag, E. and McClennen, N. (2020) The power of place: authentic learning through place-based education. Alexandria, Virginia: ASCD.
World Economic Forum, 2020. Schools of the Future Defining New Models of Education for the Fourth Industrial Revolution, Geneva: World Economic Forum.
Written By Alan Go, Eduvalue Researcher