Drop in number of PEIs
The actual decline in the number of Private Education Institutions (PEIs) began in 2009, following the enactment of the Private Education Act (2009). The Act, legislated in December 2009, established the Council for Private Education (CPE) (currently known as Committee for Private Education, an agency under the SkillsFuture Singapore (SSG)) to regulate the private education industry in Singapore. All PEIs must comply with the Act's regulations in order to continue their operations.
The Private Education Act (2009) was enforced in response to government and public concerns caused by the increasingly dishonest and criminal behaviours of some private education providers. There were several high-profile cases involving students who were cheated out of their school fees and PEIs who offered fraudulent academic credentials. In 2009, The Straits Times reported that Former Senior Minister of State (Education) S. Iswaran stated that the exponential growth of the PEIs from 1997 to 2007 has resulted in a "highly uneven spread of academic and governance standards" and the "light touch" regulation used for the private education sector was inadequate given the growth of private schools and student numbers (1).
For PEIs to operate, they must also comply with the Enhanced Registration Framework (ERF), which audits their corporate governance, quality of provisions, and information transparency. Subsequently, the EduTrust Certification Scheme (EduTrust), a voluntary certification scheme for PEIs, was introduced. The EduTrust Certification Award distinguishes PEIs that can consistently maintain a high-quality standard in the overall provision of education services and make continual improvements that lead to positive student outcomes.
The EduTrust certification award has become a standard and critical endorsement for any PEI, not only as a "quality mark" to attract local and international students but also to explore Higher Education pathway programs that could enhance revenue and profitability for PEIs.
Decline in the number of higher education and tertiary student enrolments
The number of private education providers quadrupled between 1997 and 2007 – from 305 to 1,200 – and the number of full-time students in 2008 reached 120,000, of which 45,000 were international students (1). A whopping 75,000 of the 120,000 full-time private student enrolments, or 62.5%, were Singaporeans and Singapore residents. This demand can be attributed to the then limited number of public tertiary enrolment places as well as stricter enrolment criteria for students who wished to pursue post-secondary education. Working adults who did not have higher education qualifications at the time also chose PEIs as a means of obtaining one. It must also be noted that, due to high demand, approximately 95% of all PEIs offered primarily tertiary programmes during this period.
As of 27th August 2021 (2), there are only 299 PEIs operating in Singapore – a significant decrease from the peak of 1200 PEIs in 2007, as shown in Fig 1. Surprisingly, according to the 2021 Private Education Sector View report by SkillsFuture.SG(3), the number of PEIs students in 2021 remains roughly the same as in 2008 – 121,000 and 120,000 students respectively, as shown in Fig 2. Further examination of the data reveals that 40% (48,400) or two out of every five students are Singaporeans and permanent residents, and about 53% (64,130) of the 121,000 students took certificates and higher education qualifications. The remaining 47% (56,870) enrolled in non-higher education programmes such as primary, secondary and international curriculums. According to the report, the most popular tertiary programmes are Business and Administrations courses, which account for 25% of enrolments. Still, there is a growing demand for other types of programmes as well.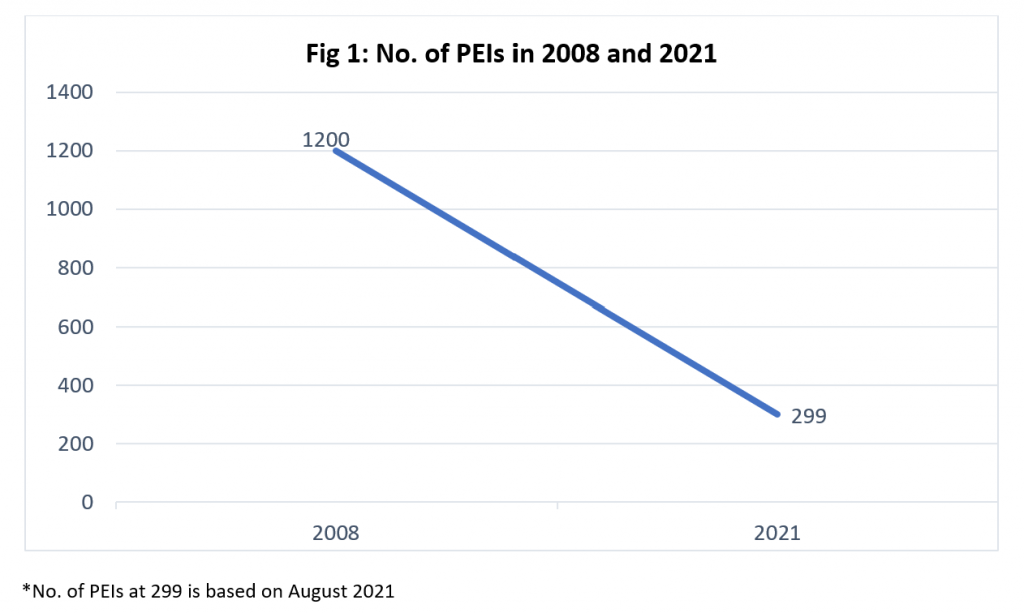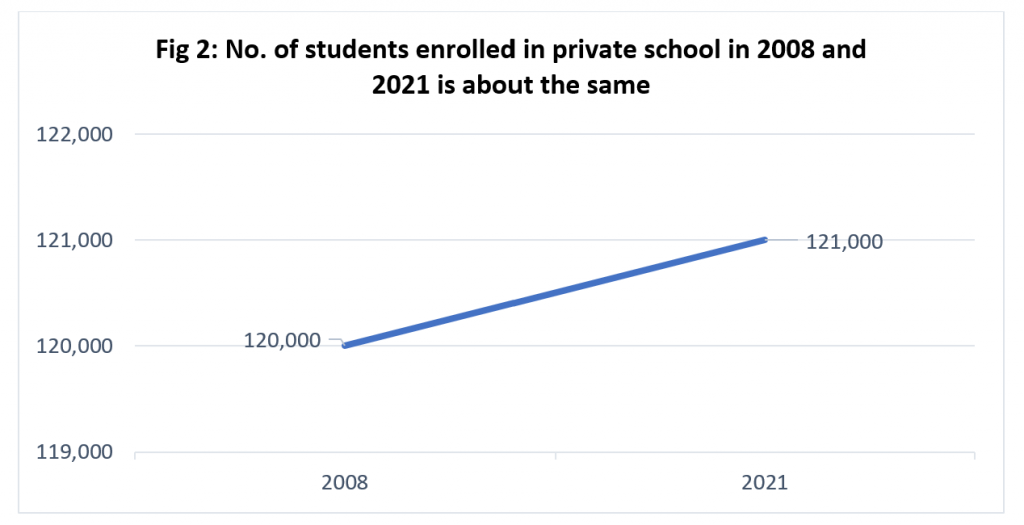 Based on the findings from the data above on higher education and tertiary segments and discounting the student pass approval rate, the following conclusions can be drawn about PEI enrolments between 2008 and 2020, as illustrated in Fig 3. PEIs must also factor in the rate at which Singapore's Immigration & Checkpoints Authority (ICA) approves international student passes, which is neither predicable nor projectable. The approval rate of student passes could range from zero to 100% without any explanations from ICA.
Between 2008 and 2020, the number of Singaporeans and Singapore residents' enrolled in PEIs as tertiary education options fell by approximately 36% or about 26,600 students.
Between 2008 and 2020, the number of students enrolled in Higher education and tertiary programmes in PEIs, dropped by approximately 50%, or about 57,130 students.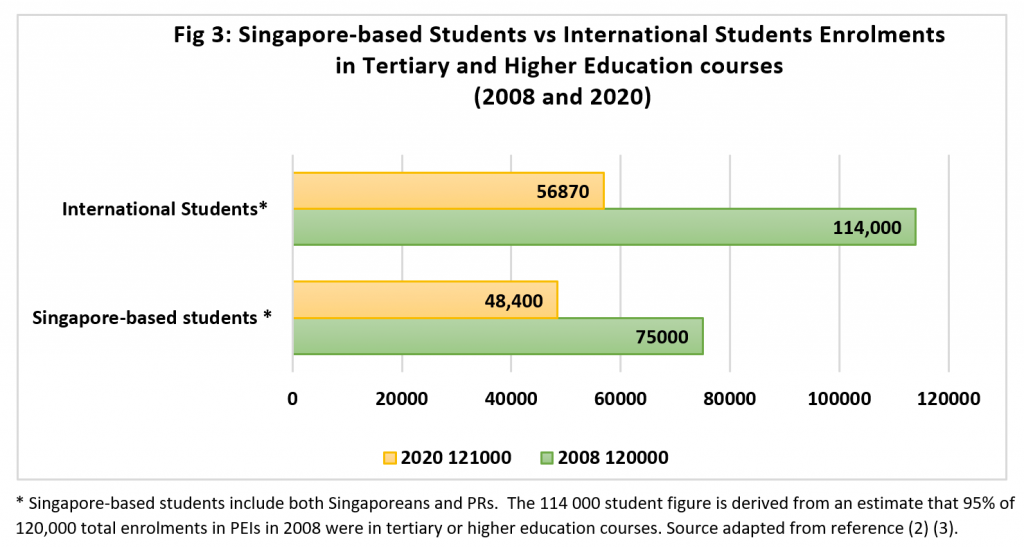 Enrolments in PEIs for Higher Education and Tertiary programmes has been declining for some time, even before the Covid-19 pandemic. PEIs that offer higher education programs are experiencing a steady decrease in enrolment. A study conducted by Eduvalue researchers, using their database of over 40 EduTrust-certified PEIs, identified the following eight key challenges:
) Inability to differentiate their programmes offerings, particularly those that offer Business-related courses.
) Inability to adapt and pivot to new business models and other niche courses.
) Increase in difficulty to recruit local students as a result of the establishment of more government tertiary institutions.
) Increase in competition from other government-funded SkillsFuture.SG level 3-7 courses.
) Increase in competition from other regional and global educational destinations.
) Failure to meet and adapt to new CPE regulatory requirements and EduTrust-Certification requirements due to poor internal audits.
) Reduction in university partnerships due to low enrolment numbers.
) Challenges caused by Covid-19 situations due to travel restrictions.
What can PEIs do to work against the decline?
In light of the situation, it is believed that the following two areas are where PEIs could embark on to overcome the declining trend; in fact, the suggestions below could complement each other to provide greater value for PEI's competitive advantage.
1. Incorporate entrepreneurial thinking to differentiate at the business model and course levels.
PEIs need to relook at their programme offerings with a higher order of entrepreneurial thinking to move away from traditional tertiary programmes, particularly non-STEM courses such as Business Management courses. Studies by SkillsFuture.SG indicated a declining trend of enrolments in business courses, though it still accounts for about 25% of the total courses offered by PEIs (3); PEIs are encouraged to look at other types of niche programs. PEIs that lacks the operational resource capability to offer more innovative business programs may face an uphill task to survive. The learning outcomes of business courses hardly changed in past centuries. A quick examination of business courses offered by PEIs revealed that most are still focused on teaching theoretical knowledge, with students receiving limited real-world business application exposure.
Many studies conducted during the Covid-19 period indicate a growing interest in the development of entrepreneurship. According to a McKinsey Insights article from 2021 (4), over 1.5 million new businesses were set up in the United States in the third quarter of 2020, more than doubling the figure for the same period in 2019. Singapore, too, has been encouraging more entrepreneurship. In 2017, the Singapore Committee on the Future Economy (CFE) prescribed the need for "innovation, value creation and entrepreneurship for Singapore to stay ahead amid challenging times" (5). The Covid-19 crisis has contributed waves of innovation, spawning a new generation of entrepreneurs propelled by the digital age, which will accelerate the Fourth Industrial Revolution. Consequently, business courses or any courses that include an element of entrepreneurial skills will significantly increase the value of the course.
PEIs that could effectively establish a positioning that enhances entrepreneurial thinking in students and supports an ecosystem of entrepreneurial activities would add value to students' future skillsets. Entrepreneurial skillsets such as critical thinking, design thinking, creative thinking, analytical and problem-solving skills, strategic thinking and planning skills etc. must be the emphasised and taught in greater depth, in addition to the course's main subject matter in each module. These skillsets are highly valued by employers across all kinds of industries and sectors. PEIs that could effectively nurture and empower their students to demonstrate such skills will be able to differentiate themselves with graduands who have a better career and future study outcomes as they prepare students with better future-of-work needs.
2. Invest in Higher Edtech Innovation as Part of the Teaching Delivery Trend.
Globally, the COVID-19 has caused educational institutions of all types to close their doors and conduct lessons outside of the classroom. According to a study by the World Economic Forum in 2020, over 1.2 billion children are out of the classroom (6), and e-learning has become the primary teaching delivery mode. The same study indicated that online learning had increased retention of information and took less time. The global Edtech investments in 2019 reached US$18.66 billion in pre-Covid-19, and the online education market is expected to reach US$350 billion by 2025. The Covid-19 pandemic has increased the demand by many folds. A 2020 report by ChannelNewsAsia, estimated that the Edtech could reach a market value of US$5 trillion. Singapore has only achieved a value of 5.4% of the total education sector, implying that Singapore education providers have enormous growth potential (7).
During the Covid-19 pandemic, education regulatory and government agencies worldwide, including the extremely stringent China market, have recognised qualifications obtained from classes delivered entirely online by certain approved overseas education institutions. Taking advantage of the Covid-19 pandemic disruptions and slower-than-expected recovery rate of Covid-19 situations globally, PEIs could ramp up their Edtech investments. PEIs should quickly redesign their programs with Edtech in mind beyond Zoom classes. They have to embrace online learning more holistic and innovatively by simulating students' learning experiences and activities as close to in-classroom mode as possible. Investing in a good Learning Management System (LMS) is inevitably a must, and incorporating various online teaching-learning tools will be necessary to provide an enriching learning experience. PEIs with greater financial resources may want to consider Augmented Reality (AR) and Artificial Intelligent (AI) learning technologies to provide even better online learning experiences for their students.
PEIs should accelerate their learning curve by putting in efforts toward redesigning their business models, including establishing new innovative student recruitment marketing partners and academic partnerships that would embrace and capitalise on the growing trend of online education. It is critical to be able to convince students that they could get equally good learning outcomes from quality online asynchronous or synchronous teaching platforms – traditional teaching staff and curriculum developers will have to upskill and upgrade their skill sets to cater to the new learning behaviours.
Conclusion:
The data shows that the number of private school students remains the same between 2008 and 2021. However, there is still a significant drop in enrolment from Singaporeans, permanent residents, and international students enrolling in higher education and tertiary courses. The PEI sector will inevitably see more consolidations as regulatory requirements will make quality assurance a significant factor. It is believed that Covid-19 will continue to challenge PEIs for some time to come, and those who could pivot and adopt innovative business models while also embracing Edtech at the same time will be winners in the highly regulated private education sector in Singapore. Most PEIs will depend almost exclusively on international students to survive, as Singaporeans will mostly attend government-funded local public and workforce skills institutions.
Adopting Edtech is the new paradigm shift that all educators will have to adjust to, regardless of whether the teaching occurs in a face-to-face classroom, an online class, or a blended-learning setting. The much-needed entrepreneurial thinking to challenge external and internal factors will be crucial to develop new business models to mitigate the decline of private education enrolments in Singapore.
References