What is ERF?
Enhanced Registration Framework (ERF) is the minimum certification that all Private Education Institutions (PEIs) must obtain by fulfilling all mandatory registration requirements set by the Committee for Private Education (CPE). Approved Training Organisations-PEIs (ATO-PEIs) must also register under ERF to SkillsFuture Singapore (SSG) in a joint application to Workforce Skills Qualifications (WSQ) organisation approval.
What does the ERF registration process look like?
The ERF registration process a PEI would follow would depend on whether it is a new applicant or an existing PEI with ERF registration (see below for infographics we have produced to give you a better understanding!).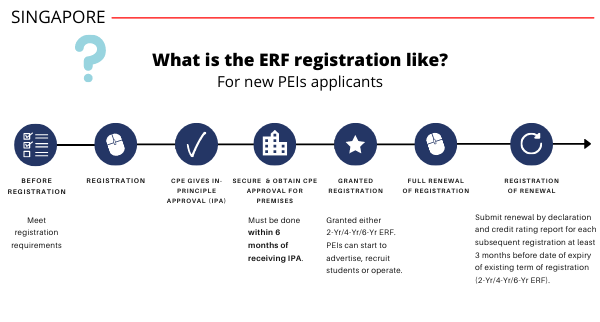 PEIs should note that ERF registration is not a one-time certification. If successful, CPE will grant a PEI ERF certification with a renewal period of registration of either a 2-, 4- or 6-years duration. PEIs would then have to renew their ERF registration before the expiry of their existing ERF registration term. For PEIs that obtained 2 consecutive 4-yr or 6-yr ERF, they can renew by declaration (see the graphic process below).