However, the education landscape in Singapore is highly competitive. Private schools have to meet stringent government regulations and are constantly vying for students with well-established education institutions. But despite the challenges, there is still a place for opening new private schools in Singapore.


If you're an educator with a vision for starting your own school, EduValue will walk you through the steps of how to open a private school in Singapore and cover everything you need to know to get your education institution up and running.
Integrated Services for the PEI Sector
As EduTrust experts, we are equipped with the proper knowledge and skills in ERF registration, EduTrust Consulting and Quality Assurance Frameworks for PEIs that are regulated by the Committee for Private Education (CPE) in Singapore. Let us help you see what really happens on the ground and provide transparency to your actual operations. Our team of professionals can effectively identify gaps and flaws, and rectify them with customised targeted solutions to raise the quality of your school. We can also guide you in managing your risks of ERF and EduTrust Certifications.
We are deeply experienced in managing private education schools, and we strive to offer a broad range of exceptional services that extend far beyond traditional consulting to soar above our competition. Our line of services does more than just take you through the processes on how to start a private school in Singapore. We also offer a suite of integrated services, designed perfectly for supporting the Private Education Institutions (PEI) sector. The following services can be rendered individually or in combination, depending on your needs.
ERF & EduTrust: Consulting Services
ERF & EduTrust: Maintaining EduTrust – Digital QA
ERF & EduTrust: Independent Internal Assessment & Review
ERF & EduTrust: Specialised Services
The Importance of the Enhanced Registration Framework (ERF)
Enhanced Registration Framework (ERF) is the minimum certification that all Private Education Institutions (PEIs) must obtain by fulfilling all mandatory registration requirements set by the Committee for Private Education (CPE). Approved Training Organisations-PEIs (ATO-PEIs) must also register under ERF to SkillsFuture Singapore (SSG) in a joint application to Workforce Skills Qualifications (WSQ) organisation approval.
These standards cover aspects such as the institute's curriculum, teaching staff, and facilities. The ERF also requires schools to have a minimum number of students and to be financially sound. By meeting these standards, educational institutes can provide their students with a high-quality education that meets their needs. In addition, the registration process helps to ensure that only well-established and reputable institutes are operating in Singapore which helps to protect students from being scammed or signing up for courses that are not suitable for them. As such, the ERF plays an important role in ensuring the quality of education in Singapore.
ERF Registration Process 
The ERF registration process of a private educational institute would depend on whether it is a new applicant or an existing private educational institute with an ERF registration.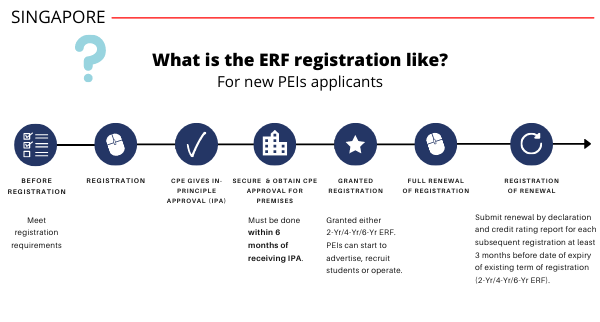 Private schools should note that ERF registration is not a one-time certification. If successful, CPE will grant a PEI ERF certification with a renewal period of registration of either a 2-, 4- or 6-year duration. Private educational institutes would then have to renew their ERF registration before the expiry of their existing ERF registration term. Private schools that obtained 2 consecutive 4- or 6-year ERF certifications can renew by declaration.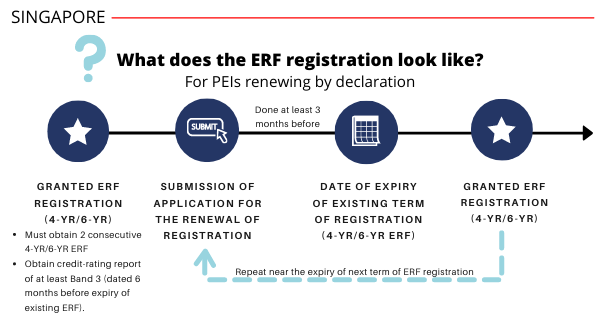 Work with EduValue to Start a Private Educational Institute in Singapore
EduValue is a leading provider of ERF, EduTrust Consulting and Quality Assurance Frameworks for private education institutions (PEIs) regulated by the Committee for Private Education (CPE) in Singapore. At EduValue, we understand that every PEI is different, and as such, we offer a suite of integrated services that are designed to perfectly fit each individual client's needs. Whether you are looking for support in the area of governance and compliance, or you need assistance with accreditation and quality assurance, our team of experts will be there to guide you every step of the way. So whether you're looking to start a private educational institute in Singapore or improve the quality of your existing institution, EduValue is here to help.
Contact us
today to find out more about our services.
Frequently Asked Questions About Opening a Private School in Singapore
1. What Are the Common Mistakes and Misconceptions PEIs Tend to Make with ERF Registration?
The registration of an educational institute in Singapore is a relatively simple process, but there are a few common mistakes that private education institutions (PEIs) tend to make. Below are the three most common mistakes:
A common mistake PEIs make is failing to register with the Committee for Private Education (CPE). These PEIs include those that run degree and/or master programmes locally in collaboration with partners (overseas universities, companies etc.), and small tuition centres that run international programmes or curriculum like International Baccalaureate (IB) that expand into larger tuition centres.
Another common mistake is that PEI employees, owners and independent individual consultants are not up-to-date on ERF or renewal regulation changes as they only need to register once every 4 to 6 years. As such, they lack the proper understanding of how to meet the new regulations and assessment criteria.
Lastly, a misconception about the ERF registration process is that it is tough to register as it is a long-drawn preparation process. However, based on our experience, all the preparation for registration requirements can be completed and submitted within 2 weeks.
To avoid making these common mistakes and having these misconceptions, we recommend that PEIs find a professional firm that specialises in Quality Assurance, has a high volume of active clients, thoroughly understands operations and application processes and are updated in regulation requirements and criteria.
2. Who Needs to Apply for the ERF?
PEIs offering the following programmes must register with CPE under the ERF:
Degree, diploma or full-time certification programmes at the post-secondary level;
Full-time primary or secondary education wholly or substantially, in accordance with an international curriculum (e.g IB – International Baccalaureate);
Full-time preparatory courses for the purpose of preparing students

for entrance/placement tests for joining Singapore's mainstream schools, or
for external examinations; that
lead to a qualification awarded by any person other than the person which provides such full-time education; or
entitle the students to be admitted to an education institution;

Full-time special education for students with physical or intellectual disabilities, where the private-funded education institution conducting the programme has not been extended a subvention by the Government.
3. Is Starting an Educational Institute Profitable?
Opening a private school in Singapore can be a very profitable venture, but there are many important factors to consider before taking the plunge:
Location is key
Accreditation from an appropriate governing body
A sound curriculum and top-notch facilities to attract students from around the community
Talented and committed staff to provide students with the best possible education