What is EduTrust?
EduTrust Certification Scheme (EduTrust) is a Quality Assurance (QA) assessment for 4-Year Enhanced Registration Framework (ERF) Private Education Institutions (PEIs) that is regulated by the Committee for Private Education (CPE). These PEIs either run degree programmes, pathway programmes or teach foreign students with international curriculum. This certification is an indicator of PEIs that consistently maintain a high standard of quality in the overall provision of education services and make continual improvements that lead to positive student outcomes. The assessment evaluates the PEI's strategies, policies, systems and processes, infrastructure, delivery, and staff retention. There are 3 tiers of EduTrust certification awards – EduTrust Provisional, EduTrust and EduTrust Star.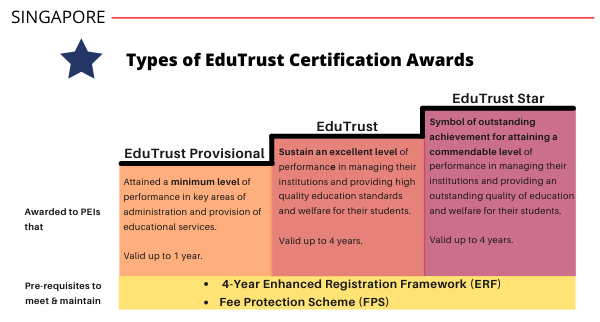 What does the EduTrust application process look like?
There are 4 types of EduTrust application – new, renewal, guided interim and ad-hoc.
1) New application for newly set-up PEIs or PEIs does not have EduTrust certification.
2) Renewal application to be submitted at least four months before the end of its existing EduTrust certification.
3) Guided Interim application for PEIs with 4-year EduTrust award have to apply for this assessment at least 4 months before the end of its second year of certification. This assessment focuses on supporting PEIs in improving their performance. This will be followed-up with a site assessment.
For more information about EduTrust, visit EduValue Singapore (EV), our brand that is a leader in ERF, EduTrust Consulting and Quality Assurance Frameworks for Private Education Institutions (PEIs) that are regulated by the Committee for Private Education (CPE) in Singapore. EV also does set-up and consulting work for Kindergarten, Enrichment & Tuition sectors, and Workforce Skills Qualifications (WSQ) Training Providers/ Approved Training Organisations (ATOs) sectors, forming an in-depth footprint into Singapore's education landscape.